Medical Writing
editEon provides a wide variety of medical-writing services, ranging from non-clinical peer-reviewed manuscripts to regulatory submissions and clinical documents. Our medical writing experts can develop your data, references, and outline or list of ideas into a complete medical manuscript draft, from abstract to references. If you have started to write a manuscript and gotten sidetracked with other responsibilities, you can send us your partially completed manuscript at any stage in the writing process. For example, we can develop your rough draft into a concise, well-written manuscript, or write the introduction, methods, and discussion sections around your completed results.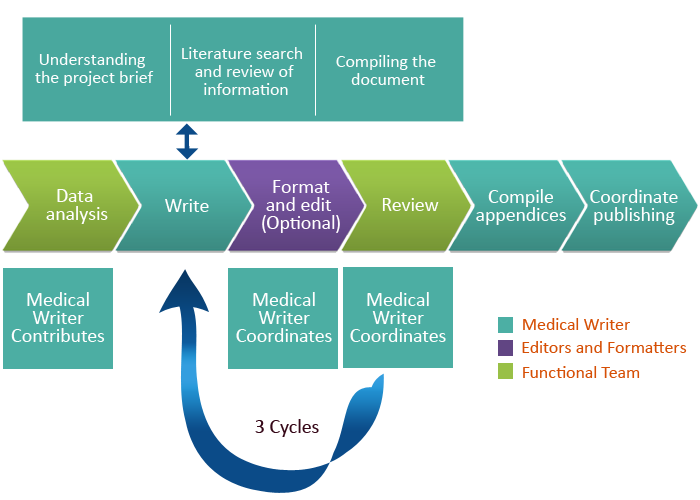 Our vast experience helps us deliver a portfolio of regulatory and medical writing services to address the needs of every clinical research project including:
Integrated product development plans.
Investigator brochures
Protocol development
Informed consents and assents
Investigational medicinal product dossiers
Clinical trial authorizations
Regulatory meeting briefing packages
Clinical study reports (Phase I, II, III, and IV)
Safety narratives
Development safety update reports
Periodic safety update reports
Risk management plans
Pediatric investigation plans
Data and safety monitoring board charters and reports
Interim data summaries
Abstracts and manuscripts
Integrated summaries of safety
Integrated summaries of efficacy
editEon's medical writing team has churned out documents for a range of subjects, including:
Medicine
Anatomy
Anaesthesiology
Biology
Biochemistry
Biophysics
Biomedical engineering
Biostatistics
Biotechnology
Cardiology
Cardiothoracic and vascular surgery
Clinical pharmacology
Clinical pathology
Clinical psychology
Dermatology and venereology
Dentistry
Dental surgery
Developmental anatomy
Embryology
ENT
Emergency medicine
Endocrinology
Experimental Medicine
Experimental surgery
Forensic medicine and toxicology
Gynecology and obstetrics
Gastroenterology
Genetics
Genetic engineering
Hematology
Hepatology
Hospital administration
Histopathology
Immunology
Investigatory medicine
Infectious diseases
Internal medicine
Laboratory medicine
Microbiology
Molecular biology
Nephrology
Neonatology
Nuclear medicine
Neurology
Neurosurgery
Nuclear magnetic resonance
Orthopedics
Ophthalmology
Orthodontics
Oncology
Physiology
Pharmacology
Pediatric Surgery
Pediatrics
Pathology
Psychiatry
Preventive medicine
Pulmonary medicine
Physical medicine and rehabilitation
Plastic surgery
Rheumatology
Radiology
Radiotherapy
Radiation Oncology
Reproductive biology
Spinal surgery
Urology
Life Science
Embryology
Drug discovery
Evolution and ecology
Genetics
Immunology
Biotechnology
Endocrinology
Biochemistry/biophysics
Molecular biology
Physiology
Cellular biology
Genetics
Biostatistics
Experimental biology
If you have any queries about our medical writing services, contact us by phone, fax or write to us support@editeon.com . You can also request for a price quotation. We will reply you within 48 hours.